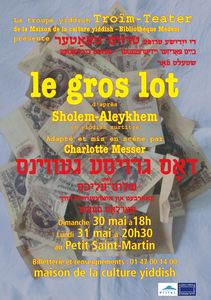 by Sholem-Aleykhem
New creation of the Troïm-Teater

A town in the Tsarist Russian province. Shimele Saroker, a modest Jewish tailor is covered in debts. But suddenly he is rescued by the destiny: he wins the great prize at the lottery and becomes one of the richest men in town. How will develop now his life and the life of his family? You will discover it by attending the new show of the Yiddish troupe Troïm-Teater: dos groyse gevins , an adaptation of Sholem-Aleykhem's master work.
A play in Yiddish with French overtitles.

November 7 and November 21 at 7:00 pm
at the Petit Saint-Martin
17 rue René Boulanger 75010 Paris

Information and ticketing for the Paris shows at the Paris Yiddish Centre 01 47 00 14 00
Contribution: 23 €. Members: 18 €.