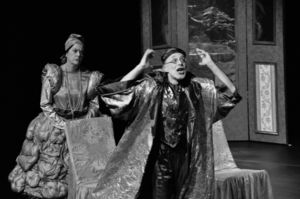 Dos groyse gevins
by Sholem-Aleykhem
Adapted and directed by Charlotte Messer
A humble Jewish tailor in a provincial city of Tsarist Russia, Shimele Saroker, never loses his good temper, in spite of all the debts he is crippled with. He is unable to pay his rent and faces expulsion from his modest dwelling. Suddenly, in a twist of fate, he wins the jackpot of 200,000 rubles it the bank lottery and becomes one of the richest people in town. What will happen now in the lives of Shimele and his family? How will the newly acquired riches change the behavior of all the protagonists? You will find out when you attend the new production of the Troïm-Teater, Dos groyse gevins (The Grand Prize), after Sholem-Aleykhem, spoken in the flavorful Yiddish of which he was a master.

In Yiddish with French supertitles

Sunday March 13 at 4.00 p.m.

Centre d'art et de culture de l'Espace Rachi
39 rue Broca 75005 Paris

Information and tickets at Maison de la culture yiddish / 01 47 00 14 00
Prices: 23 €. Members: 18 €.