Tuesday, February 7th at 8:30 PM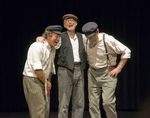 Le gros lot
by Sholem-Aleykhem

Adaptation and direction: Charlotte Messer
A provincial city in the Tsar's empire. Shimele Saroker, a humble Jewish tailor, is heavily in debt. He is unable to pay his rent and his bills at the local shops. But, fate takes a turn: he wins the big lottery and becomes the wealthiest man in the city. What will the life of Shimele and his family be like from now on? Find out by coming to see the Troïm Theater's new production, "The Big Lottery" adapted from a play by Sholem-Aleykhem, in the delightful Yiddish so typical of his work.
In Yiddish with French surtitles.
Information and tickets available at the Maison de la culture Yiddish: 01 47 00 14 00
or at the Centre d'Art et de Culture – Espace Rachi- Guy de Rothschild: 01 43 31 93 60
Tickets available here on the internet.

Tickets : 23 €. Members : 18 €.