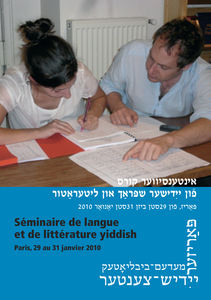 From Jan. 29 until Jan. 31, 2010
This two and a half day workshop will allow students from Paris, from the French provinces and from abroad to get together and be immersed in the Yiddish language in a friendly atmosphere.
> Pedagogical team under the direction of Yitskhok Niborski:
Sharon Bar-Kochva (Paris Yiddish Centre)
Natalia Krynicka (University Paris IV-Sorbonne)
Rubye Monet (Paris Yiddish Centre)
Yitskhok Niborski (Inalco, Paris)
Gilles Rozier (Paris Yiddish Centre)
Aron Waldman (Paris Yiddish Centre)

> 2 levels of classes

Intermediate:
open to students having accomplished at least two years (120 hours) of Yiddish language instruction.
Advanced:
Study of specific points of grammar and of literature.
Workshops and friendly evenings
Contribution: 160 € per person
Reduced contribution for full time students below the age of 30 (provide documentary evidence of registration in a school or university): 120 €
Scholarship possible in certain cases (in priority for students)
> Information

At the Paris Yiddish Centre during normal business hours.
www.yiddishweb.com / +33(0)1 47 00 14 00.
Registration with Laurence:
laurence@yiddishweb.com
Download the program here