A propos de l'auteur MCYBM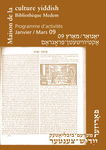 Site Web : http://www.yiddishweb.com

Quelques mots sur moi
La Maison de la Culture Yiddish a pour objectifs de favoriser la conservation du patrimoine, de diffuser la culture yiddish en France et en Europe, de promouvoir le yiddish comme langue de culture et de privilégier sa connaissance auprès de publics issus de tous horizons.

Dans un esprit de laïcité et d'ouverture, ce cadre chaleureux propose :
- une médiathèque (collections de la Bibliothèque Medem, vidéothèque, phonothèque...),
- des cours de langue de tous niveaux,
- des ateliers de pratiques artistiques (théâtre, chansons, poésie, cinéma,
danses populaires, musique Klezmer...),
- des activités pour les enfants (cours de langue, chorale, atelier dessin, spectacles jeune public, fêtes et carnavals...),
- des cercles de réflexion et de conversation,
- des animations en français et en yiddish (expositions, spectacles, projection de films et de documentaires, conférences,...).
- un café librairie.

The Paris Yiddish Center - Medem Library hosts with an open-minded and secular spirit :
- a multimedia library including the Medem Library's collections, audio and video collections,
- language courses at all levels,
- workshops (theatre, songs, poetry, cinema, dance, Klezmer music...),
- children activities (yiddish courses, chorus, painting workshop, entertainments, parties and carnivals...),
- conversation groups and discussions about ashkenazic world's themes,
- cultural activities in Yiddish and French (exhibitions, entertainments, documentary and film screenings, conferences),
- a cafe and a bookshop.