The Paris Yiddish Center - Medem Library English newsletter is now on line
on the website : http://yiddish2english.canalblog.com
דער חודשלעכער בריוו פֿונעם פּאַריזער ייִדיש–צענטער -- מעדעם–ביבליאָטעק איז שוין אויף אינטערנעץ
וועבאָרט : http://yiddish2yiddish.canalblog.com

---
New cultural season - March 8 to May 13, 2012
THE UTOPIAS OF YIDDISH- Birobidjan, Argentina and the others
Exhibition
Thursday March 8 at 7.p.m.
Opening of the exhibition Utopias of Yiddish
Admission free of charge. March10 to June 26, 2012.
Sunday March 11 at 5.30 p.m.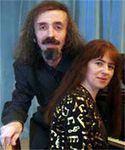 Concert by Efim Chorny and Susan Ghergus.
Songs of the Jewish pioneers in the Soviet Union. All new show.
Admission: 30 €. Members: 20 €.
Tickets available at Maison de la culture yiddish.
Theater « Passage vers les étoiles », 17 cité Joly, 75011 Paris (Métro Père Lachaise, Rue Saint Maur)
Saturday March 24
3.00 p.m. Lecture
Red flag and blue star: the kibbutz as a community experience in Eretz-Israel.
By Meïr Waintrater, director of l'Arche.
Admission. : 5 €. Members: 3 €.
5.00 p.m. Film showing
Inventing Our Life: The Kibbutz Experiment. Directed by Toby Perl Freilich.
Admission: 5 €. Members: 3 €.
Saturday March 31
3.00 p.m. Lecture
The Jewish agricultural colonies in Argentina, Brazil and the United States created at the initiative of Baron Maurice de Hirsch.
By Dominique Frischer, author of Moses of the Americas: the life and works of the munificent Baron de Hirsch (éditions Grasset).
Admission: 5 €. Members: 3 €.
5.00 p.m. Film showing
Legado. Directed by Vivian Imar and Marcelo Trotta.
Admission: 5 €. Members: 3 €.
---
Encounters

Palabres Centre-européennes
Tuesday March 13 at 7.00 p.m.
Panorama on books of Central Europe
Christine Lecerf, specialist on Austrian literature, journalist, producer at France Culture, will present her selection of new publications concerning Central Europe (see attached program).
Organized by the CIRCE, in cooperation with the Heinrich Heine Center, Polish Institute, Czech center, Hungarian Institute, Slovak Institute, Romanian Cultural Center, Austrian Cultural Forum and Litterall.
Every two months, authors, translators and publishers present books dealing with Central Europe recently published in French.
Download complete program _here.
Springtime of poets
Saturday March 17
3.00 p.m. Our measure is not beauty but horror.
Following the publication of his novel D'un pays sans amour (éd. Grasset), Gilles Rozier proposes a bilingual presentation and readings of poems by the three writers who are the heroes of the book: Peretz Markish, Uri-Zvi Grinberg and Melekh Rawicz.
The poems will be read in Yiddish and French by Sharon Bar-Kochva and Noëmi Waysfeld.
5.00 p.m. Encounter with Charles Dobzynski, poet and translator from Yiddish
His collection of poems, Je est un juif, roman, published in 2011, is an in-depth questioning of Jewish identity and Jewish condition.
Admission: 5 €. Members: 3 €.
Wednesday March 21 mars à 20h00
Encounter with Israeli writer Moshe Sakal
On the publication in French of his novel Yolanda (éditions Stock).
With the participation of his translator Valérie Zenatti and (subject to confirmation) publisher Marie-Pierre Grâcedieu.
Presented in French by Sharon Bar-Kochva and Gilles Rozier
In a style that is at once sensitive, moving and funny, Moshe Sakal takes us into the inner world of a cosmopolitan family heavy with secrets.
Thursday March 22 at 8.30 p.m.
Myriam Anissimov, writer
On the publication of her biography of Vassili Grossman (éditions du Seuil).
Novelist, journalist and biographer, Myriam Anissimov is the author of biographies of Primo Levi and Romain Gary. After detailed investigations in Russia, Ukraine and Israel, Myriam Anissimov presents the life of the author of « Life and Fate ». As Grossman gradually became aware of the tragedy of Stalinism, he fell victim to a regime of which he was once a partisan, a system which, through its persecution of all opponents, and Jews in particular, became profoundly destructive.
Admission: 5 €. Members: 3 €.
Tuesdays of history

Tuesday March 27 at 8.00 p.m. Philippe Boukara
The Jews and Asia: India, Central and Southern Asia (2/4).
Part of a cycle of lectures on the theme: « Other Promised Lands? »
The geography of the Jewish people, past and present, is not limited to the « western world » and the Arab countries. It also includes fertile interactions with the non-western civilizations of Asia and Africa.
Admission: 5 €. Members: 3 €.
---
Annual General Assembly
Thursday April 12, 2012 at 8.00 p.m.
You who have all year long contributed to the success of our projects, your presence, support and mobilization have given our team the strength that is indispensable to achieving our goals.
The general assembly is the occasion to better understand the work we have accomplished, to open a dialogue or express your opinion on future projects. The agenda of the meeting will be posted in our Center and can be downloaded on our www.yiddishweb.com as of March 19, 2012.
To vote, your dues must be paid for the year 2011/2012. There is still time to renew your membership, if you have not yet done so. If you are unable to attend this meeting, it is essential to send in the proxy ballot which you will be given, in order for the General Assembly to take place.
---
Workshops of the Maison de la culture yiddish
This month – don't miss!
Dance workshop: Saturday March 10 from 3.00 p.m. to 5.30 p.m.
Cooking workshop: Friday March 30 at 6.30 p.m. (sharp)
Also:

Choral group Tshiribim: Sunday March 25
Theater workshop: Tuesdays March 6, 20 and 27
Klezmer workshop: Sundays March 4 and 25
Translation workshop: Tuesdays March 6, 13 and 27

For further information on the program of workshops here as well as Yiddish courses and price Yiddish courses and price information.
---
Kindershul

Led by Sharon Bar-Kochva, Anyel Fisbein and Fleur Kuhn
With the occasional participation of Marthe Desrosières and the Klezmer workshop.
Sundays from 2.30 to 5.30 p.m.: March 18
Nineteen sessions of 3 hours each, including Jewish holidays
Purim: Sunday March 11 at 2.30 p.m.

Download program of courses for children and price information in pdf format.
---
Monthly Seminar in Yiddish literature
Directed by Yitskhok Niborski and Natalia Krynicka
Themes of the year
1. Jewish humor, original version
2. Traditional motifs and their avatars
Sunday March 11
1-Humor and the holidays. Selected stories.
2- Traditional motifs in modern authors.
This seminar is conducted entirely in Yiddish; it is accessible to any student who has studied the language for about three years.
Participants eat lunch together: everyone brings a contribution of food or beverage.
From 9.00 a.m. to 12.30 p.m. and 2.00 to 4.30 p.m.
Admission: 34 €. Members: 27 €
Photocopy fee: 10 € for the year.
---
Summer University of Yiddish language and literature
The 7th summer university of Yiddish language and literature will be held in Paris from July 9 to 27. Students who would like a room with a local resident, or Parisians who can provide lodging (room or apartment, free or at low rent) for a student for the duration of the summer course should go to the Face Group specially created for this purpose: Parizer zumerkurs 2012.
For further information, contact: annick@yiddishweb.com.
The program of courses, the registration form and the scholarship request form are available here.
The Léon Skop and Féla Rosenblum Foundation (under the auspices of the Fondation du Judaïsme Français) has awarded its prize for 2011 to Yitskhok Niborski "for his overall work for the preservation and renewal Yiddish". The award ceremony took place on February 9 at the offices of the FJF.
---
Radio Program
On the air:
Yidish haynt, monthly program devoted to Yiddish culture (in French), produced by the Maison de la culture yiddish, is broadcast on RCJ 93.9 FM. You can hear previous programs here.

On internet:
The new weekly web-cast in Yiddish Tsu zingen un tsu zogn, produced by the Maison de la culture yiddish, is moderated by Sharon Bar-Kochva, Nicole Wajeman and Gilles Rozier. You can listen to the latest program on our site and also hear previous programs here.
---
The MCY recommends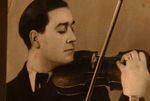 Haïm : à la lumière d'un violon
From January 28 to June 3, 2012
(Saturdays and Sundays)
Created by the company Characteres, written and directed by Gérald Garutti.
Narrated by actress Anouk Grinberg, this story recounts the life of Haïm Lipsky, born in Lodz in 1920 in a working-class Jewish family, who became a violinist through sheer willpower, and survived the concentration camps thanks to his music.
Vingtième Théâtre 7 rue des Platrières, 75020 Paris (Métro Ménilmontant or Gambetta)
Admission: 24 €. Members: 19 €.
Reservations: 01 43 66 01 13 or on the sites Vingtième Théâtre and FNAC.
International Symposium: Aharon Appelfeld, fifty years of writing
From March 25 to 27. By the Mémorial de la Shoah and INALCO.
Download the complete program here.