Release of the first album of Noëmi Waysfeld & Blik
Guest artists on the record: David Krakauer and Sonia Wieder-Atherton

Concerts for the album's release:
February 5 and 6, 2012 at l'Européen
5 rue Biot - 75017 Paris
Information - Tickets:
Tel: 01 43 87 97 13


Reserve at: Européen, Fnac, ticketnet.fr, carrefour, digitick.com,
Site web du groupe : www.noemiwaysfeld-blik.com
Concerts and shows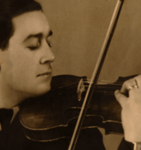 Haïm : à la lumière d'un violon
From 28 January to 3 June 2012
(Saturdays and Sundays)
A theatrical creation of the company Characteres, written and directed by Gérald Garutti.
With the voice of actress Anouk Grinberg, this story retraces the life Haïm Lipsky, born in Lodz in 1920 in a working class Jewish family, who became a violinist through force of will and survived the concentration camps thanks to his music.
Vingtième Théâtre, 7 rue des Platrières, 75020 Paris (Métro Ménilmontant or Gambetta)
Price: 24 €. Members: 19 €.
Reservations: 01 43 66 01 13 or on the sites of Vingtième Théâtre or FNAC.