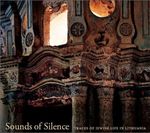 The Sounds of Silence
December 14, 2011 to March 3, 2012.

Presented by the Lithuanian Embassy, this exhibition shows works by Lithuanian photographer Raimondas Paknys is about the Jews of Lithuania, a world that no longer exists. With photos of the vestiges of a "golden age", it retraces the the history of a community that formed a majority of many towns and village in the 19th and early 20th centuries. Photos of sites, houses and buildings evoke the people, famous or unknown, who left their mark on this country.

Admission free of charge.