Sign up quickly! Still several openings available!

For the ninth consecutive year, proposed by Estelle Hulack and Marthe Desrosières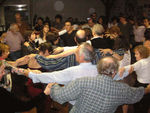 Klezmer Paris-2011 > Jewish music from Central Europe

Workshops in instrumental music , dance, nigunim, children and juniors (7 years and up)

From Sunday July 3 to Friday July 8, 2011

Around the central figure of Michael Alpert (singer and multi-instrumentalist, leader of the renaissance of klezmer music and Yiddish song), a team of top-ranking specialists will introduce you to or expand your knowledge of this exceptionally rich folk culture
MARTHE DESROSIERES (France) - musical coordinator, flutes, picolo
SAMUEL MAQUIN (France) - clarinet
SANNE MORICKE (Germany)- accordion
MICHAL SVIRONI (Israel) - dances, muppets
FLORENT BRIQUE (France) - soudpainting
NOEMI WAYSFELD (France) - theatre, vocals

On the program: workshops, conferences, talks and master classes, jams, performances. Parallel intensive courses open to all, from intermediate to professional levels (conducted in French and English).
Download the program for adults in french, the program for children in french, the presentation of the team in french and the application form.

Want a sample?
http://www.youtube.com/watch?v=5OtwfEwFwiw
http://www.youtube.com/watch?v=CO56tCCb4XY
http://www.youtube.com/watch?v=hNpngiLMx0

Friday July 8, 2011
CABARET KLEZMER
The teachers and participants of "Klezmer Paris – 2011" invite you to celebrate with them ! Come and listen, dance and sing... and speak Yiddish. For an idea of what it's like, have a look at: http://www.youtube.com/watch?v=khJpMvwOzlw
For complete program of classes and public events, as well as inscription forms, contact Maison de la culture yiddish or on site www.yiddishweb.com.
NEW! Workshop of Yiddish songs in Limousin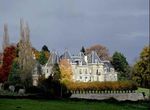 For the first time, set in a magnificent 19th century estate located 15 kilometers from Limoges, an idyllic site for our workshop in Yiddish songs: Château de Ligoure (http://chateau-de-ligoure.blogspot.com/)

From Sunday August 21 to Saturday August 27, 2011

On the program: singing workshops (work on breathing, vocal games, study of the repertory), relaxation sessions and energy techniques, Yiddish classes, lessons in Ashkenazi cooking.
For juniors: courses in klezmer music (open to all transportable instruments), nature study, sports activities (swimming, pony riding… ). Sightseeing possibilities.
Tourism for everyone. And party every night!
With :
MARTHE DESROSIERES ( France) - flute, picolo, music workshop
KARSTEN TROYLE (Germany) - song workshops
SHIFRA LIPSKY-SLUCHIN (Israel) - relaxation workshops, meditation ( practises violin and alto)
ALEXIS KUNE (France) - accordion, dance
REGINE NEBEL (France) - yiddish courses, Yiddish food workshop
DANIELE VAISBERG (France) - clown, children theatre workshop
Board and meals on the site in a friendly family atmosphere, in the heart of the countryside: rooms with twin beds or more, for children, parents or grandparents...
Download the program in french and the application form.
More information and pre-registration with Estelle at +33 1 47 00 14 00 or by e-mail