Klezmer Kaos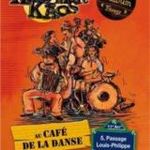 Concert for the release of their new album "Froggy"

"A singer and clarinetist from Iceland, studying music therapy in Paris, becomes enamored of klezmer music, which she calls "the music of joy". A joyous mix of Nordic and oriental strains with hints of rock and jazz and an ambience of cabaret. A record is in preparation."

Eliane Azoulay, TELERAMA


Friday June 10 at 8.30 p.m.
Café de la danse
5, passage Louis-Philippe 75011 - Metro Bastille
Tel. 01 47 00 57 59
Reserve online or by phone:
Booking Fnac - Carrefour - 0 892 68 36 22 (0,34€/min)

www.klezmer-kaos.com
www.myspace.com/klezmerkaos

---
Anne Le musical
Anne le Musical, with 10 actor-singers, one rapper, a piano and a cello. A chorus of 60 in the audience reply to the actors on stage. An original and deeply moving presentation of the message of Anne Frank.

From April 27 to June 22, Wednesday evenings at 8.00 p.m.

Théâtre du Gymnase - Marie Bell
38 Boulevard Bonne Nouvelle 75010 Paris - Métro Bonne Nouvelle / Parking 2 Rue d'Hauteville

Reserve online or by phone: 01 42 46 79 79