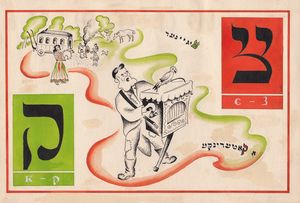 Paule Gecils, daughter of the painter Rakhmiel-Gecils (Vilna Oct. 10, 1908 - Paris January 14, 1979), has donated to the Library a beautiful Yiddish alphabet painted by her father in 1946. It consists of 14 drawings with water color and India ink, format 21 x 30 cm.

Paule Gecils has also donated a collection of photographs belonging to her father, showing various aspects of the life of a Jewish youth in Lithuania in the years 1910-1920.

We thank Paule Gecils whole-heartedly for this gift..