Vies de Job
To mark the publication of his new book by Editions Gallimard, Pierre Assouline will dialogue with Gilles Rozier.

«He often comes to visit me, usually at night. Night is his territory. And mine now, too . Since what I find will teach me what I'm searching for, I will learn at the end why Job has obsessed me so long, and by what secret movement of heart and soul he haunts my books and my days.»

Saturday, May 14 at 3.00 p.m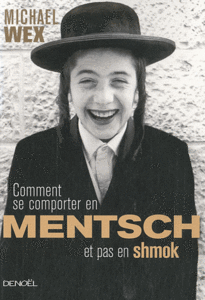 How to Be a Mentsh and Not a Shmuck by Michael Wex
Anne-Sophie Dreyfus, accompanied by Rubye Monet and Nadia Déhan-Rotschild, will present her French translation of Michael Wex's new book, published by Editions Denoël.

Thanks to Yiddish proverbs and Jewish lore, how to live the good life and learn the difference between being a «mentsh» and «shmuck». A hilarious new book by the author of Born to Kvetch !

Saturday, May 14 at 5.30 p.m.

Admission: 5 €.Members : 3 €.