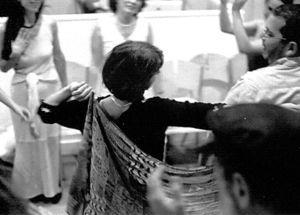 Proposed by Dorothée Vienney

Come have a ball at the Maison de la culture yiddish with Marianne Entat on violin and Nicolas Narboni on guitar. Monique Renner will lead the dancing to airs of traditional music.
How was Ashkenazi dancing changed by other influences under the Israeli sun?

Sunday, May 8 from 3.00 to 5.30 p.m

Admission: 15 €. Members : 12 €. Refreshments included.
Reservation required: limited number of places. Tel. 01 47 00 14 00.