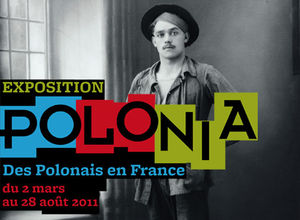 Polonia, the Poles in France since 1830
From March 2 until August 28, 2011

An exhibition at the Cité nationale de l'histoire de l'immigration (National city of immigration history)
293, avenue Daumesnil - 75012 Paris

Polonia, the first large exhibition related to Polish immigration to France, recounts the often unknown history of a community, settled in France for two centuries and which had an important influence on the economic, political, artistic and cultural lives of this country.

Archival documents, pictures, objects, paintings, sculptures, musical fragments, sound recordings and excerpts of films help to apprehend the Polish immigration between the years 1830 and 1980.

Entrance fees: 5 € and 3.5 € (include entrance to the exhibition and to the permanent collection of the City). Free below the age of 26 and for all on first Sundays of each month.

---
Talila
in concert

May 3, 2011

at the Musée d'Art et d'Histoire du judaïsme
71 rue du temple 75003 Paris.

Reservations at +33(0)1 53 01 86 53.

Teddy Lasry : piano, clarinet
Olivier Manoury: bandoneon
Pierre Mortarelli: double bass
Gonzalo Campo: drums

www.talila.net
---
Yankele
Thursday March 17 at 9:00pm
FIAP Jean Monnet
30 rue Cabanis 75014 Paris
Free entrance
Friday March 18 at 8:30pm
Show hall of Coubron
Seine Saint-Denis
Free entrance
http://www.yankele.net yankele@free.fr +33(0)1 49 35 16 25

---
Noëmi Waysfeld & Blik
in concert
Trad'n voice, generous music in Yiddish and Russian

Noëmi Waysfeld, voice
Thierry Bretonnet, accordion
Florent Labodinière, guitar and oud
Antoine Rozenbaum, double bass


Wednesday March 16 at 9:00pm
aux 3 Arts
21 rue des Rigoles 75020 Paris

Saturday April 9
The Montpelier festival of sacred music
More information shortly
Sunday April 10
Temple of Lasalle
30460 Lasalle
Wednesday April 27 at 9:00pm
aux 3 arts
21 rue des Rigoles 75020 Paris

Additional information at http://www.myblik.fr/