Jean-François Zygel
piano, organ and artistic direction

accompanied by

Talila, voice,
Martine Bailly, cello,
Philippe Berrod, clarinet,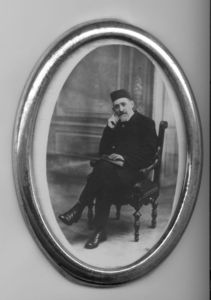 Presents

in a tribute to his great grandfather
Shalom Zygel, hazan in Poland

Mishpokhe
My Jewish family

« What is Jewish music? Klezmer, Yiddish or Ladino songs, Mendelssohn quartets, Bob Dylan, the Gershwin standards? There is not one sort of Jewish music, there are many. Just as there is not one but many families that we create for ourselves over time, over a lifetime. My own Jewish family is one of melodies and rhythms, the instruments and singers of Jewish music and the improvisations of the hazanim, the cantors at the synagogue. The intensity of their expression haunts the memory of a continent at once immaterial and endlessly renewed.»

Sunday, March 6, 2011 at 7.00 p.m.
Le Palace
8, Rue du Faubourg Montmartre - 75009 Paris

Listen to the radio program "Yiddish Haynt" broadcasted on January 27 on the RCJ station, available on the Web at http://www.rachelnet.net/media/medem/radio/yidishhaynt/27janvier2011.mp3; in this program Gilles Rozier features an interview with Jean-François Zygel and Talila about this event (in French).
Ticket prices:
First category: 150€ (*); Second category: 80€ (*); Third category: 60€ (*)
(*) Part of this contribution is tax-deductible for French taxpayers.

Information and tickets at: Paris Yiddish Centre, phone +33(0)1 47 00 14 00