After the success of the first three shows The Troïm-Teater will present two more performances of:
Dos groyse gevins
(The Grand Prize)
after Sholem-Aleykhem
Adapted and directed by Charlotte Messer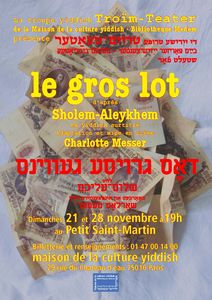 A provincial town in Tsarist Russia. Shimele Saroker, a modest Jewish tailor, is covered in debts. But suddenly he is rescued by destiny: he wins the grand prize in the lottery and becomes one of the richest men in town. What happens now in his life and the life of his family? You'll see when you attend the new show of the Yiddish troupe Troïm-Teater: Dos groyse gevins , an adaptation of Sholem-Aleykhem's masterpiece.

A play in Yiddish with French overtitles.

Théâtre du Petit Saint-Martin
17 rue René Boulanger 75010 Paris

Information and tickets: Maison de la culture yiddish
Tel: +33(0)1 47 00 14 00
Prices : 23 €. Members : 18 €.

Attention!
Tickets are going fast. Don't wait!