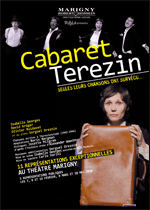 Cabaret Terezin
Only their songs survived...

Isabelle Georges - David Krüger -Olivier Ruidavet and at the piano Sergueï Dreznin.
Songs written in the camp of Theresienstadt (1942-1944)
Arrangement Boris Bergman
Dialogues Josette Milgram
after a true story by Alexander Waechter
Additional music by Sergueï Dreznin
Directed by Isabelle Georges assisted by Daisy Miotello
Light design Carlo Varini

---
Reading of the "Last Letter"
by Vassili Grossman

With Sonia Elalouf, Eléonore Biezunski (violin, song).
Directed by: Laëtitia Guédon
In the framework of the "Women's Festival of the Goutte d'Or"

A magnificent text to be rediscovered and listened to... The last letter of Anna Semionovna to her son in the last hours of the Berditchev Ghetto, before its liquidation in 1941. It is a part of Vassili Grosman's novel "Life and Fate"

"I could see here that hope is almost never related to reason, it is insane, it is, I thing, generated by instinct."


Tuesday March 2 at 6:30pm
at the Manufacture des Abbesses
7, rue Véron - Paris 18e - Metro Abbesses

Free entrance
---
Screening of the movie

Ukrainian Jews: a new horizon
Made by the National Mission for Eastern Europe of the B'nai B'rith France
from a video report in Kiev and in L'viv

Tuesday March 16, 2010 at 8:00pm

Ukraine : 300 000 Jews in danger of extinction due to assimilation
Let's help them!

at the Maison des Associations
181 avenue Daumesnil - Paris 12e
Entrance fee: 5€.
Due to limited space, please reserve at +33(0)6 74 68 89 19 or +33(0)6 60 61 32 27
---
"Les égarés" (The Lost)

Saturday March 20 at 9:00pm

In the first part of the group Klezmer Chaos

The Lost sing and play in the heart of worlds that separate, it is said, peoples, traditions, the believers from non-believers, and actually, everyone from himself. Using the bow, the breath, the voice and the text, this young group forces languages, music and territories to an intimate dialog: Hebrew prayers and parodies of Yiddish religious songs, popular Algerian songs and Arabic-Andalusia poems, erotic Judeo-Spanish romances, mystical drinking songs...

... anything works as long as it is about speaking to every soul the secret language of its exile.

At Studio
in Colombes

MySpace : www.myspace.com/lesegaresparisgrenoble.

A remarkable event:
For the first time in France, works written for a cabaret by the artists of the ghetto-camp Theresienstadt, Ilse Weber, Léo Straus, Frida Rosental, Karel Svenk, Walter Lindenbaum, Kopper… Cabaret Terezin is an unbelievable lesson of life.

A flow of energy where the music sweeps away everything: a mockery against all barbarians, with humor as the ultimate weapon against oblivion. Alexander Waechter discovers the tragic story of his great-uncle Raimund, who died in the camp of Theresienstadt. He finds the courage to open a suitcase that has been waiting for years in the family's attic... His memories burst out in the form of a man, of a woman and of a pianist, who carry him away into an incredible gaiety of a cabaret, where the fears, the desires and the dreams, but also the small human weaknesses collide with the oppression - but always in music.
Starting February 7, 2010
at the Théâtre Marigny
Carré Marigny - Paris 8e
Reservations: 0892 68 36 22