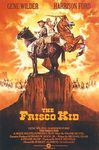 The Frisco Kid
Film club hosted by CLAUDE ROTSCHILD

Saturday March 20 at 3pm

Director: Robert Aldrich
with Gene Wilder and Harrison Ford
USA - 1979 - 122 min - color- English with French subtitles.

In 1850 a Polish rabbi under the name of Avram travels to the US with the mission of reaching San Francisco and founding there a synagogue. In Philadelphia he misses the boat bound for California and is robed by three bandits. Without a cent, Avram must cross the entire country. At the beginning of his voyage, he meets Tommy, a bank robber, who will accompany him to his destination.

Contribution: 6 €. Members: 4 €.
Mandatory reservations at +33(0)1 47 00 14 00.