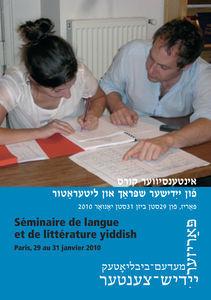 The intensive Yiddish workshop, which took place from January 29 to January 31, was attended by 32 participants from nine countries (France, Netherlands, England, Scotland, Belgium, Germany, Italy, Poland and Switzerland).

The students, divided into two groups (intermediate and advanced), studied different aspects of the Yiddish literature and grammar. The Friday evening dinner ("Shabbes tish") took place in a warm and cheerful atmosphere, like all other meals taken together in the cafeteria of the Paris Yiddish Centre.

Given the success of this experience, other similar workshops will be organized in the future.