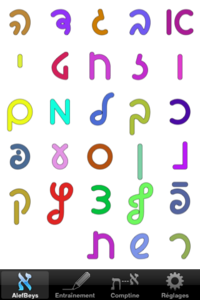 Yiddish For Kids 1 "AlefBeys"
is a software application which helps to learn reading and writing Yiddish characters on the iPhone and iPod touch.

Very user-friendly, this software combines the form, the sound, the text and the gesture to allow everyone to find his/her own way of memorizing the Yiddish alphabet.

It allows to display the letters, to hear their name IN YIDDISH as well as their pronunciation. Le characters can be displayed in their printed or hand-written form, but always in bright and attractive colors.

It allows you to DRAW THE CHARACTERS on the screen! The software helps you to stay on the right path and compliments you once you succeeded. You can also ask to recite the alphabet so that you can memorize the order of letters.
Available at iTunes following the link: http://itunes.com/apps/yiddishforkids1-alefbeys
Price: 2,39 €