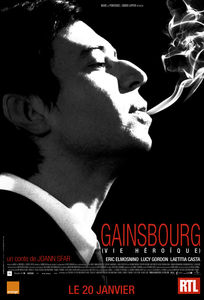 Gainsbourg (vie héroïque)
A movie by Joann Sfar

Opens in movie theatres on Jan. 20, 2010

a special preview on Jan. 12, 2010 at 8:00pm
for the benefit of the Paris Yiddish Centre - Medem Library

at the Gaumont Opéra Français
38, boulevard des Italiens 75009 Paris
Metro Opéra, Chaussée d'Antin. Parking Meyerbeer Opéra.

It is an amusing and fantastic story of Serge Gainsbourg and his famous face. Where a little Jewish boy boasts in the Nazi occupied Paris; where a young and shy poet leaves his paintings and his little room under the roof to astound the Paris cabarets during the swinging sixties. It is a "heroic life" in which the creatures of his mind take life on the screen and his temper combines with outrageous love stories. From there is born a subversive work with a star, an unsubordinated but faithful citizen who made vibrate the whole planet.

With the possible attendance of the director
We extend our thanks to Joann Sfar, France 2 Cinéma, Lilou Films, Xilam Films,
One World Films, Studio 37, Universal Pictures France and the Gaumont Cinemas
Mandatory reservation with the Paris Yiddish Centre
The number of seat being limited, please confirm your reservation before December 24 by sending
your reservation request , with your check to
Maison de la culture yiddish-Bibliothèque Medem 18, passage Saint-Pierre Amelot 75011 Paris.
Tickets reserved before December 24 will be sent to you by mail. After that you will have pick them up at the Paris Yiddish Centre.

Reserve your tickets