Around the book...
"CITÉ D' ARTISTES – LA RUCHE",("City of Artists - La Ruche")
by Sylvie Buisson and Martine Fresia.

Sarurday October 10 at 2:30pm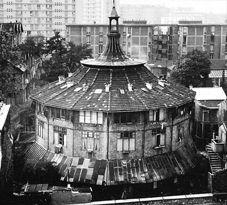 Published for the exhibition "La Ruche – Cité des artistes 1902-2009" ("La Ruche - City of Artists 1902 - 2009") which took place in early 2009 in Evian, this book recalls the "village" in which lived several hundreds of artists. The history and the present reality of the "La Ruche", still at the upper end of the artistic avant-garde, is one of the most surprising chapters of the Montparnasse legend.

Sylvie Buisson is a specialist of the Montparnasse and Montmartre history. She was the curator of the Montparnasse Museum, of which she is now a Board Member. She will come to talk to us about her book, ...and we might be lucky to have some surprise guests.

Entrance fee: 5 €. Members: 3 €.
Reservation and prepayment mandatory at +33(0)1 47 00 14 00.