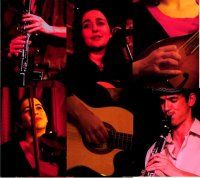 Les égarés (The lost)

Concerts of Jewish, Arab-Andalusian and simply Arab music, sacred and secular more sacred than sacred... And maybe even a Judeo-Spanish version of Vivaldi's Eja Mater? Or other ecumenical invention?
MySpace : www.myspace.com/lesegaresparisgrenoble.
Saturday April 25 at 4pm
In duo : Eléonore Biezunski (violin, mandolin, song) and Ma Sarah (song, guitare)
at the Clignancourt Library

A musical moment accompanying the reading of fragments of Diary of an apples thief, memoirs of Moyshe Rozenbaumas, of whom Eléonore is... the grand-daughter!
Free entrance

And not to be missed, the first concert in Paris of the entire group Les Egarés (The Lost)

Tuesday May 5 at 9pm
In quintet : Eléonore Biezunski (violin, mandolin, song), Rabah Hamrene (violin, oud, song), Ma Sarah (song, guitare), Samuel Maquin (clarinet), Samuel Petit (piano)
at Théâtre de la Vieille Grille
Free entrance
---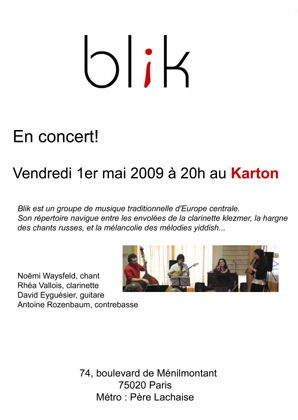 Blik

Noëmi Waysfeld, song
Rhéa Vallois, clarinet
David Eyguésier, guitare
Antoine Rozenbaum, double bass

Blik is a group performing traditional music of Central and Eastern Europe. Their repertoire navigates between the klezmer clarinet and melancholy of Russian and Yiddish songs...
Friday May 1 at 8pm
at Karton,
74 boulevard de Ménilmontant - Paris 20e - Métro Père Lachaise
---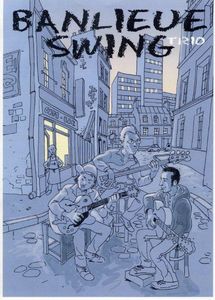 Banlieue Swing Trio
gipsy jazz
Django, improvisations et music of the world... acoustik / electrik...


Saturday May 9 at 9pm
Café de la Locandiera
145 rue Oberkampf - Paris 11e - Metro Ménilmontant
Free entrance - drinks advised
Reservations: 01 56 98 12 18

Thursday May 14 at 9:30pm
Café Chat Noir (in the basement)
76 rue Jean-Pierre Timbaud - Paris 11e - Metro Couronnes ou Parmentier
Entrance fee: 7 €
http://auchatnoir.free.fr