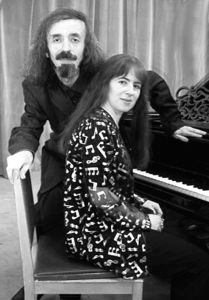 Yiddish songs of Podolie, Ukraine, Moldavia, Bessarabia…
A show by Efim Chorny (voice) et de Susan Ghergus (piano)

Efim Chorny (listen) and Susan Ghergus are among the best surprises that the collapse of the Iron Curtain reserved us.
Born in Moldavia et still living in à Kishiniev, Efim Chorny is one of the most creative Yiddish singers on the international stage: he composes music for poems by Jewish writers from Eastern Europe, already performed by several singers, and which with no doubt, will become the hits and classics in the near future. Susan Ghergus is a virtuoso pianist, which offers her classical musical education to the service of the traditional Jewish music.
You can be sure of an excellent evening in a Yiddish atmosphere!
Tuesday March 10, 2009 at 7:30pm
Festive Hall of the 20th arrondissment Mairie.
Place Gambetta, Paris 75020, metro Gambetta

17:30pm: Opening the doors
Snacks and Yddish specialties at additional cost.
8:30pm : The show

Price : 23 €. Members: 18 €

Information and tickets:
Paris Yiddish Centre/ 18, passage Saint-Pierre Amelot 75011 Paris / +33 (0)1 47 00 14 00