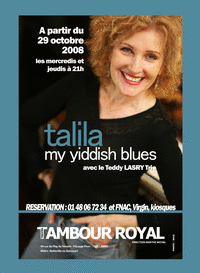 Talila
My Yiddish blues

Talila's yiddishland is timeless: it wears a Perfecto jacket under a smock made in shtetl! The stories Talila tells in between her songs - admirable in their simplicity - are about the contemporary Jewish ambiguity.
The characters in the songs and in the stories blur the trails.
Nowhere will you find an artist, such as Talila, who brings to life Yiddish music in such a way: with irony, causticity and relevance.
With her musicians led by Teddy Lasry, she sings a universal language and reasserts the brilliant modernity of Yiddish.
Talila presents her new album « Yiddish Blues 2 » on stage
Wednesdays, Thursdays and Saturdays at 9:00pm and Sundays at 3:00pm
at the Théâtre du Tambour Royal
94 rue du Faubourg du Temple (passage Piver) - Paris 11e - metro Goncourt or Belleville
---
Betty Reicher

Chanson
French and Yiddish songs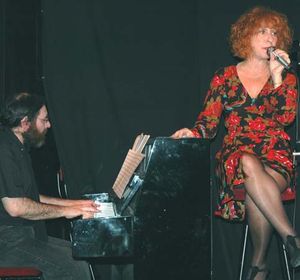 Betty Reicher, an author, composer and performer, offers a new recital in which the songs of her own intertwine with Yiddish songs in a captivating dialog. Betty Reicher is a breeze, which makes flutter the pages of our stories. Hers, ours, yours. Do not believe you are safe. She captivates you. She's cheerful, serious, and sad at times… She takes you on a trip, far away, for a long time. Tonight, tomorrow, and maybe after tomorrow, you will tell her and she will tell you "Loz mekh nisht aleyn"...
With Sylvain Durand at the piano.
Monday March 16th at 8:30pm
Théâtre de la Vieille Grille
1, rue du Puits de l'Ermite - Paris 5e
Prices : 17 € . Students and unemployed: 12 €; children below the age of 13: 7.50 €.
Reservations : +33 (01) 47 07 22 11
---
Les Yeux noirs
Tchorba

The musicians of the group Les Yeux noirs do not carry the Yiddish and Gipsy musical traditions like constraining straightjackets. On the contrary, they keep redefining their limits according to musical experiences open to the world and its modernity.

Tchorba, the name of their last album, is also the name of a traditional and tasty dish, that you could find, with exquisite variations, anywhere from the Mediterranean shore to the Ural mountains. It is a perfect illustration of an artistic approach combining deep sincerity with stimulating cultural diversity.




Friday March 27 and Saturday March 28 at 8:00pm
at Alhambra
21 rue Yves Toudic - Paris 10e - metro Goncourt or Jacques Bonsergent or République
Entrance fee: 34 € . Reduced fee: 29 €.